Welcome to Pembrokeshire Tourism
Sorry, but with the latest instruction (see below) from the Government and the Welsh Senedd. Pembrokeshire Tourist venues are closed for business until futher notice.
There maybe some exceptions that we are not aware of, if you believe this to be the case please check with the individual providers.
Hopefully it will not last long and they will be open again and look forward to seeing friends old and new. In the meantime Please heed the Governments instructions as it is for you and your families best interest keep safe .
Regards,
Huw
PLEASE HEED THE ADVICE HOPEFULLY IT WILL SHORTEN THE LOCKDOWN AND WE WIL ALL SEE EACH OTHER SOONER RATHER THAN LATER.


If anyone living or with a business in Pembrokeshire and are in need of adition help and support, please follow the link to the Community Hub which has been set up by Pembrokeshire Council.

https://www.pembrokeshire.gov.uk/coronavirus-covid-19-community-information/community-hub
I would also like to share the email below with you all too regarding the Community Hub, I have also attached the posters in case anyone can help to share them too:

We need your help and support!

As you are aware the Community Hub is a one-stop shop for people who are self-isolating or having issues during the current Coronavirus pandemic and need some additional support.

We need your support to get the message out to everyone and to ensure our communities and individuals are fully supported wherever possible. We need to get the message out to hard to reach people and this is where we want your help and input. Please help us:

Tell people you know about the Hub and how to get in touch

Share the new leaflet (information below) with everyone you know – people who might not need support today, could need it in the weeks to come

Put up posters (information below) – in windows, noticeboards, local shops and supermarkets - anywhere that people pass when they are out and about for essential purposes or exercise

Remember that we all need support sometimes, that it is ok to ask for help and that there is no query too small!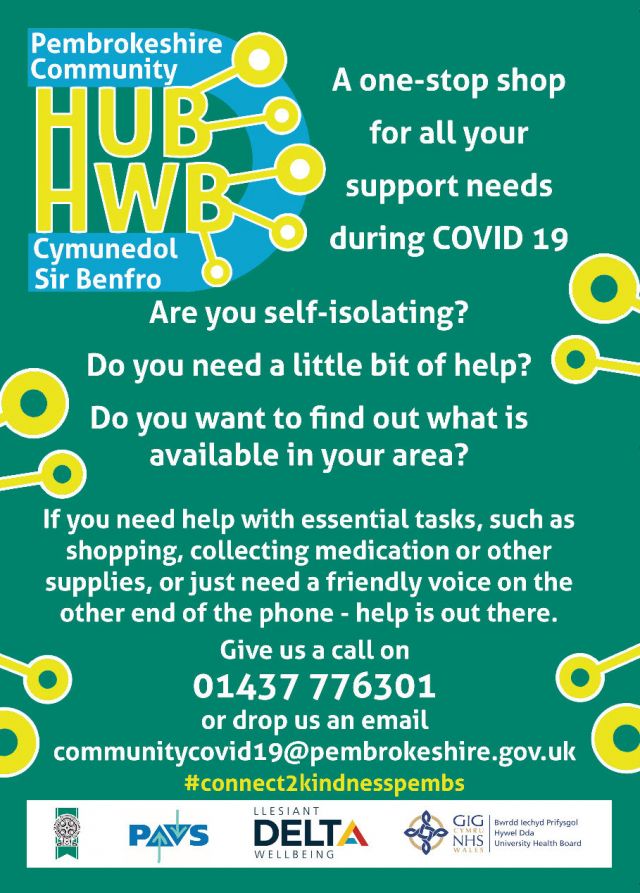 POLICE AND COUNCIL WORK TOGETHER TO ENFORCE CORONAVIRUS RESTRICTIONS
Police and Council officers will be conducting high visibility patrols in Pembrokeshire over the Easter weekend to ensure motorists are only making essential journeys.
Dyfed-Powys Police officers will work alongside Pembrokeshire County Council staff to carry out checks and re-inforce the message to stay home, save lives.
Teams will be stationed at major and alternative routes to ensure compliance with the lockdown rules. Mobile patrols will also be in operation.
Under current legislation and Government rules, people should not be leaving their primary residence without reasonable excuse and should not be travelling to second homes and holiday accommodation in the County.
All holiday accommodation including holiday sites; camping sites; hotels; bed and breakfast accommodation; holiday apartments; hostels and boarding houses must remain closed until further notice unless covered under very specific exemptions.
Over the Easter weekend Council Public Protection team members will be visiting accommodation providers to monitor and assess compliance with the legislation.
Enforcement action may be considered where it is necessary and proportionate.
Residents who wish to report the commercial use of holiday accommodation in contradiction of the current restrictions over the Easter weekend can do so by calling 01437 771891.
Pembrokeshire County Council Leader Councillor David Simpson, said: "During this unprecedented time, we ask you not to visit Pembrokeshire.
"Pembrokeshire is a beautiful place and it will still be here awaiting your visit once this pandemic is over.
"Our officers, alongside police colleagues, will be working hard to ensure the rules that are there to keep us all safe are being followed."
Dyfed-Powys Police Superintendent Ross Evans said: "I am grateful to our local authority partners for supporting us with this excellent joint initiative. This will increase our ability to support our amazing front line NHS colleagues.
"Our staff have been working extremely hard to tackle this invisible threat primarily through stopping and engaging with huge numbers of drivers.
"The vast majority have been key workers or people on legitimate journeys and I thank them for their understanding and support.


From: Reg.Kilpatrick@gov.wales <Reg.Kilpatrick@gov.wales>
Date: Monday, 23 Mar 2020, 8:41 pm
Subject: SOCIAL DISTANCING: TEMPORARY ADDITIONAL MEASURES
The PM has just announced an expansion in social distancing measures. The arrangements are set out in the following:
Minimising social contact is the most important way that collectively we can tackle COVID-19 and protect the NHS. When we reduce our day-to-day contact with other people, we will reduce the spread of the infection. That is why the government is now introducing three new measures.
1.Requiring people to stay at home, except for essential activities
2.Closing non-essential shops and community spaces
3.Stopping public gatherings of more than two people
The Government expects every citizen to comply with these new measures. They are vital to saving lives and preventing the spread of the infection.
These measures will come into effect on Tuesday 24 March 2020. They will initially last for three weeks, until after the Easter weekend, when the Government will update.
1. STAYING AT HOME
You should only leave the house for one of four reasons:
●shopping for basic necessities, for example food and medicine, which must be as infrequent as possible.
●exercise, such as a run, walk, or cycle. Making sure you exercise is particularly important at this time, but must be alone, or with your immediate household, and not more than once a day.
●any medical need, or to provide care or to help a vulnerable person.
●travelling to and from work, but only where this absolutely cannot be done from home. Your employer should take all reasonable steps to support you to work from home wherever possible.
There are some issues which we need to resolve including children travelling to school to collect free school meals. These four reasons are exceptions - even when doing these activities, you should be minimising time spent outside of the home.
These measures must be followed by everyone. Shielding arrangements which are already under development will continue.
2. CLOSING SHOPS AND PUBLIC SPACES
Last week, the Government asked certain businesses - including pubs, cinemas and theatres - to close. In Wales Caravan parks, campsites, tourist hotspots and popular beauty spots have been closed to visitors. The Government is now extending this requirement to a further set of business and other venues, including:
●all non-essential retail stores - this will include clothing and electronics stores; hair, beauty and nail salons; and outdoor and indoor markets, excluding grocery markets.
●libraries, community centres, and youth centres.
●indoor and outdoor leisure facilities such as bowling alleys, arcades, and soft play facilities.
●communal places within parks, such as playgrounds, sports courts and outdoor gyms.
●places of worship, except for funerals attended by immediate families.
●hotels, hostels, bed and breakfasts, campsites, caravan parks, and boarding houses for commercial/leisure use (excludes permanent residents).
More detailed information can be found here [LINK TO MHCLG guidance] or in Wales, here, including a full list of those businesses and other venues that must close. Businesses and other venues not on this list may remain open.
3. STOPPING PUBLIC GATHERINGS
To make sure people are social distancing, the Government is also stopping all public gatherings of more than two people.
There are only two exceptions to this rule:
●where the gathering is of a group of people who live together - this means that a parent can, for example, take their children to the shops if there is no option to leave them at home; or
●where the gathering is essential for work purposes - but workers should be trying to minimise all meetings and other gatherings in the workplace.
In addition, the Government is stopping social events, including weddings, baptisms and other religious ceremonies. This will exclude funerals attended by immediate family.
DELIVERING THESE NEW MEASURES
These measures will reduce our day to day contact with other people. They are a vital part of our efforts to reduce the rate of transmission of COVID-19.
The Government expects every citizen to comply with these new measures.
If people do not follow these new measures, we will not reduce the spread of the infection. The Government will therefore be putting in place measures to enforce them, including through fines where people do not comply.
The Government understands that these measures will severely restrict citizens' quality of life and economic activity. But they are considered an essential temporary response to bring down the spread of COVID-19.
They will initially last for the next three weeks, until the end of the Easter weekend, at which point the Government will them.
Reg Kilpatrick
Director for Local Government
Cyfarwyddwr Llywodraeth Leol
Welsh Government/Llywodraeth Cymru
Cathays Park/Parc Cathays
Cardiff/Caerdydd
CF10 3NQ
Tel/Ffôn 03000 250913
077 7169 8742
reg.kilpatrick@gov.wales
Sganiwyd y neges hon am bob feirws hysbys wrth iddi adael Llywodraeth Cymru. Mae Llywodraeth Cymru yn cymryd o ddifrif yr angen i ddiogelu eich data. Os cysylltwch â Llywodraeth Cymru, mae ein hysbysiad preifatrwydd yn esbonio sut rydym yn defnyddio eich gwybodaeth a sut rydym yn diogelu eich preifatrwydd. Rydym yn croesawu gohebiaeth yn Gymraeg. Byddwn yn anfon ateb yn Gymraeg i ohebiaeth a dderbynnir yn Gymraeg ac ni fydd gohebu yn Gymraeg yn arwain at oedi. On leaving the Welsh Government this email was scanned for all known viruses. The Welsh Government takes the protection of your data seriously. If you contact the Welsh Government then our Privacy Notice explains how we use your information and the ways in which we protect your privacy. We welcome receiving correspondence in Welsh. Any correspondence received in Welsh will be answered in Welsh and corresponding in Welsh will not lead to a delay in responding.