Welcome to Pembrokeshire Tourism
with the latest instruction from the Government and the Welsh Senedd. Pembrokeshire as from Friday 24th October 2020 until at least 9th November 2020 Tourist venues and businesses will be CLOSED for business again
There maybe some exceptions that we are not aware of, if you believe this to be the case please check with the individual providers.
Hopefully it will not last long and they will be open again and look forward to seeing friends old and new. In the meantime Please heed the Governments instructions as it is for you and your families best interest keep safe .
Regards,
Huw
PLEASE HEED THE ADVICE HOPEFULLY IT WILL SHORTEN THE LOCKDOWN AND WE WIL ALL SEE EACH OTHER SOONER RATHER THAN LATER.

WORKING TOGETHER TO STOP SPREAD OF CORONAVIRUS
By working together, we'll keep Pembrokeshire and Wales safe.
That's the message from the Test, Trace, Protect (TTP) team set up at Pembrokeshire County Council.
Some 138 members of Council staff are being trained to enable them to be deployed to the TTP team if required to help stop the spread of coronavirus across Wales.
With lockdown restrictions being further eased it is now even more important that anyone showing any symptoms of coronavirus gets themselves tested.
Testing and contact tracing will be vital to prevent the spread of coronavirus as we come out of lockdown and find a way to live alongside the virus for the foreseeable future.
We must all play our part, including observing social distancing guidelines and washing hands regularly.
It is important to be aware that even though most people will experience mild symptoms of coronavirus, the virus can still be passed on to others who could develop serious illness.
The symptoms of coronavirus are:
a high temperature,

a new, continuous cough,

loss of or changes in smell or taste (anosmia)
You must self-isolate as soon as the symptoms develop and seek an urgent test.
This will help keep others well, save lives and assist our health services and economy.
Anyone experiencing Coronavirus symptoms can apply for atest by visiting www.gov.wales/coronavirus, or by calling 119.
Symptomatic critical workers, can get a test by speaking to their employer or contacting the local Covid Enquiries team on 0300 303 8322 or by emailing CovidEnquiries.hdd@wales.nhs.uk
Anyone testing positive for coronavirus must isolate for seven days from symptom onset, with members of their household isolating for 14 days until the risk of passing on further infection has gone.
Combined these simple but effective actions will help ensure the virus does not spread.
Anyone who has a positive coronavirus test will be contacted by a team of contact tracers, and asked for details of everyone they have had close contact with while they have had symptoms.
People who have been in close contact will be advised to self-isolate for 14 days to further prevent spread of the virus.
Genuine TTP calls will come from 02921 961 133. Genuine text messages will come from +447775106684 and genuine emails will come from (English) tracing@wales.nhs.uk or (Welsh) olrhain@wales.nhs.uk
No other channels will be used by the Test, Trace, Protect team. They will never ask you for payment or request any financial information, bank details or passwords.
Pembrokeshire County Council Leader, Cllr David Simpson, said: "Coronavirus has not gone away and it is more important than ever that we work together to help stop the spread of the virus.
"That means self-isolating and getting tested if you have symptoms and self-isolating if advised to do so by the Test, Trace, Protect team.
"These measures are in place to help keep Pembrokeshire and Wales safe. Please follow them."
For the latest advice and press releases relating to coronavirus, please view: www.pembrokeshire.gov.uk/coronavirus
For press queries, please email: presspublicrelations@pembrokeshire.gov.uk

If anyone living or with a business in Pembrokeshire and are in need of adition help and support, please follow the link to the Community Hub which has been set up by Pembrokeshire Council.

https://www.pembrokeshire.gov.uk/coronavirus-covid-19-community-information/community-hub
I would also like to share the email below with you all too regarding the Community Hub, I have also attached the posters in case anyone can help to share them too:

We need your help and support!

As you are aware the Community Hub is a one-stop shop for people who are self-isolating or having issues during the current Coronavirus pandemic and need some additional support.

We need your support to get the message out to everyone and to ensure our communities and individuals are fully supported wherever possible. We need to get the message out to hard to reach people and this is where we want your help and input. Please help us:

Tell people you know about the Hub and how to get in touch

Share the new leaflet (information below) with everyone you know – people who might not need support today, could need it in the weeks to come

Put up posters (information below) – in windows, noticeboards, local shops and supermarkets - anywhere that people pass when they are out and about for essential purposes or exercise

Remember that we all need support sometimes, that it is ok to ask for help and that there is no query too small!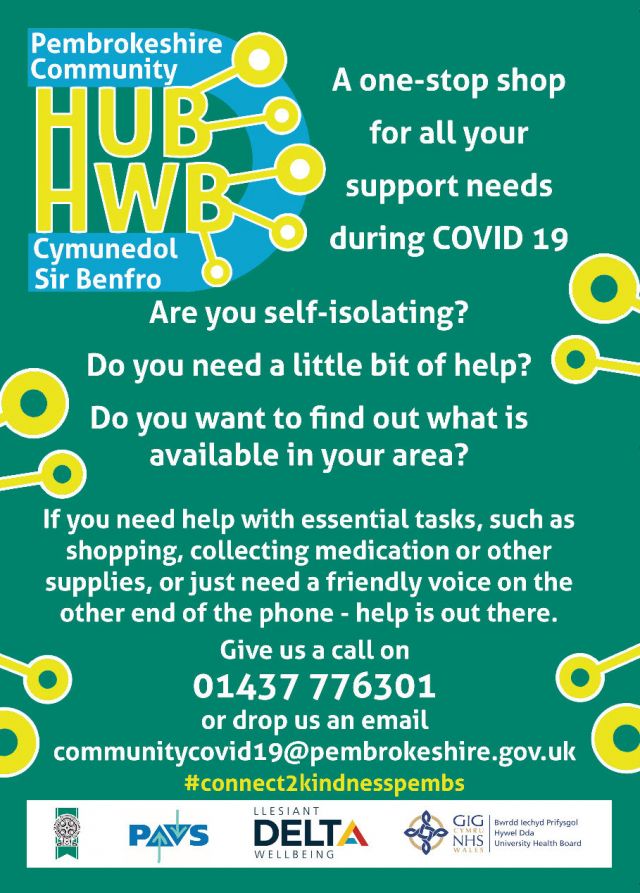 Sganiwyd y neges hon am bob feirws hysbys wrth iddi adael Llywodraeth Cymru. Mae Llywodraeth Cymru yn cymryd o ddifrif yr angen i ddiogelu eich data. Os cysylltwch â Llywodraeth Cymru, mae ein hysbysiad preifatrwydd yn esbonio sut rydym yn defnyddio eich gwybodaeth a sut rydym yn diogelu eich preifatrwydd. Rydym yn croesawu gohebiaeth yn Gymraeg. Byddwn yn anfon ateb yn Gymraeg i ohebiaeth a dderbynnir yn Gymraeg ac ni fydd gohebu yn Gymraeg yn arwain at oedi. On leaving the Welsh Government this email was scanned for all known viruses. The Welsh Government takes the protection of your data seriously. If you contact the Welsh Government then our Privacy Notice explains how we use your information and the ways in which we protect your privacy. We welcome receiving correspondence in Welsh. Any correspondence received in Welsh will be answered in Welsh and corresponding in Welsh will not lead to a delay in responding.