Welcome to Pembrokeshire Tourism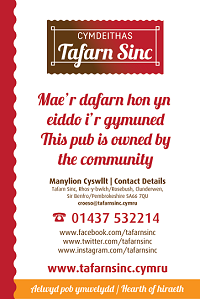 THE TAFARN SINC a must visit icon of Pembrokeshire.
Welcome to Tafarn Sinc in the heart of the Preselau. The pub was bought by the community in autumn 2017 when over £400,000 was raised through shares and loans within a short period of time. No one wanted to see the closure of the iconic pub in the village of Rosebush. Ever since it was reopened in 1992 and developed by Brian Llewelyn and his family it became a destination that epitomised the best of rural life. The pub was originally built in 1876 in the heyday of local quarries and during the presence of a railway connection. At the time there were plans to develop a spa resort based on the health attributes of the invigorating mountain wells. But this came to nothing when it was found the waters contained no special qualities.
Today the combination of sawdust-strewn floors, the agricultural paraphernalia and the photographs of yesteryear create an ambience of history and hiraeth. Even the sound of a hooter can be heard on the railway platform. Along with the soft background music, a thoroughly Welsh sense of belonging can be felt. This is the area associated with rugby internationals Dai Evans and Brian Williams and poetic luminaries such as E. Llwyd Williams, W.R Evans and Tomi Evans without forgetting the incomparable Waldo Williams, the poet of brotherhood and peace. As you enjoy your meal and drink the atmosphere, with the aid of a sensuous glass of wine, savour and appreciate all that you see. And all this in the land of the "wes, wes," dialect.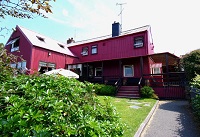 ---
Colby Lodge Woodland Gardens

A The National trust property is a set amongst a deep wooded valley which it self-does justice to the property and the tranquil secluded garden you will find there. The garden forms a riot of colour from Spring through to the Autumn display -a haven at any time of the year.

* A Welcome Host

Situated just North of Amroth Beach.
---
St Florence Cheese
You can watch how cheese is made in a traditional way and afterwards enjoy tasting the results. The shop offers a range of cheeses and a selection of other local produce, you can also enjoy a break at the licenced coffee shop. Facilities include

- An outdoor seating area,
- Meadow walk,
- Maze-
Ample parking
- Toilets
- Open &days a week from April to September.Contact:- Ivy Tower Farm
St Florence
Tenby
Pembrokeshire
SA70 8PL
Telephone 01834 871778.
---
Ritec Valley Buggies ( Quad Bike Centre)
Cross-Country Quad bike driving for seniors & juniors. Professional instructors.

Phone to Book advisable, Seniors and Juniors - arrive and drive.

Contact:-
Robertswall farm
Trefloyne Lane
Penally
Tenby
SA70 8NF
Telephone 01834 843390